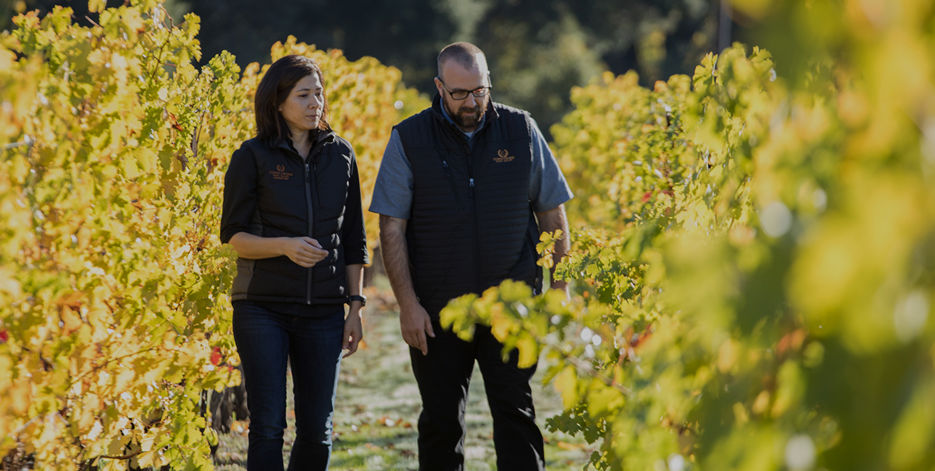 Our Team
Our winemaking team brings a breadth of experience to the table when crafting the unique wines at Conn Creek Winery.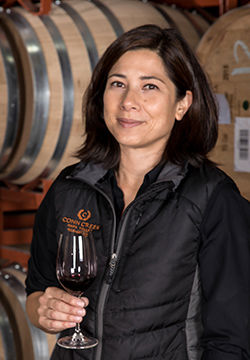 Winemaker
Elizabeth DeLouise-Gant
Elizabeth DeLouise-Gant joined Conn Creek as Head Winemaker in 2017. Prior to joining Conn Creek, Elizabeth was the Assistant Winemaker for Stag's Leap Wine Cellars. Previous roles include working a harvest with Tamber Bey Vineyards in Calistoga, and Assistant Winemaker at Beaulieu Vineyard where she was responsible for overseeing production operations for the Georges de Latour Private Reserve Winery.
Elizabeth graduated from the University of California, Santa Barbara with a Bachelor of Science in Biological Sciences with a minor in Cultural Anthropology. She was raised in Napa Valley and gained her first taste of the wine industry helping out in her parents' vineyard. Her passion for wine led her to apply her Biology background to the science of winemaking. She completed the Winemaking Certificate Program at U.C. Davis.
"A lot of people say this but it's really true: winemaking is the perfect balance of science and art," Elizabeth says. "I really enjoy seeing the correlation of what happens in the cellar, lab, and of course the final blend."
Of her role as Head Winemaker for Conn Creek Winery, Elizabeth says, "My passion in winemaking has always been Cabernet Sauvignon—its styles, clones, the many ways it can be interpreted—so joining Conn Creek was a natural fit. I look forward to continuing to explore the possibilities of Bordeaux varietals with this stellar team."
In her free time, Elizabeth enjoys spending time with her husband and 2 children.
"I really enjoy seeing the correlation of what happens in the cellar, lab, and of course the final blend."
ELIZABETH DELOUISE-GANT
Assistant Winemaker
Jason Johnson
Jason Johnson joined Conn Creek as Assistant Winemaker in 2017. Prior to Conn Creek, he was the Cellar Master for Provenance-Hewitt Vineyards. Previous to that role, Jason worked at Beaulieu Vineyard for 10 years where he "had a hand in every cellar role possible," and eventually took the lead cellar role in the Georges de Latour Private Reserve Winery.
Originally from Pinole, California, it was during his time in the cellar at Beaulieu Vineyards that Jason really became interested in wine and winemaking. This interest soon became a passion and 17 years into his career, Jason draws parallels between wine and his love for music.
"For me, winemaking is like music," he says. "There are instruments when played alone, sound good and can cause one type of emotion. When you add another instrument with the first, it creates a whole new emotion. Keep adding instruments and the sky is the limit to the emotions you can create."
Talking of his new role as Assistant Winemaker for Conn Creek Winery, Jason notes, "Located almost in the center of the Napa Valley and with so many AVA's to play with, this is a winemaker's paradise. I am so excited to be here and play all of the Valley's instruments to create the best possible orchestra for the Anthology and AVA Series."
In his free time Jason likes to play the drums. He resides just south of Napa Valley in American Canyon with his wife and two daughters.